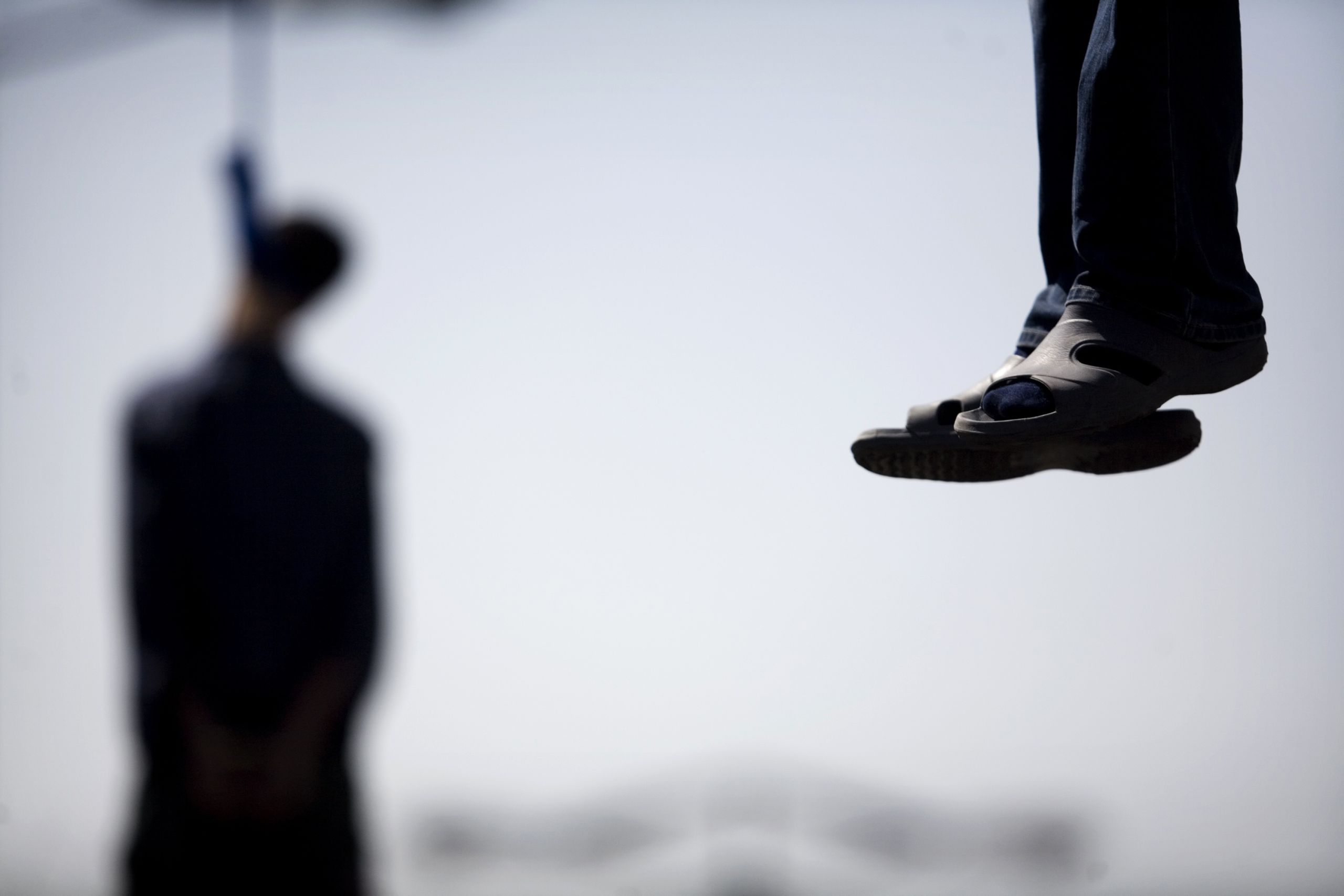 It was to be a great and safe new future.
On the spot where, just eight years before, Adolf Hitler had been photographed staring out at the Eiffel Tower having conquered most of Europe, the world's leaders made a bold statement of intent.
The Universal Declaration of Human Rights was adopted by just the third General Assembly of the newly formed United Nations at Paris's Palais de Chaillot on 10 December, 1948.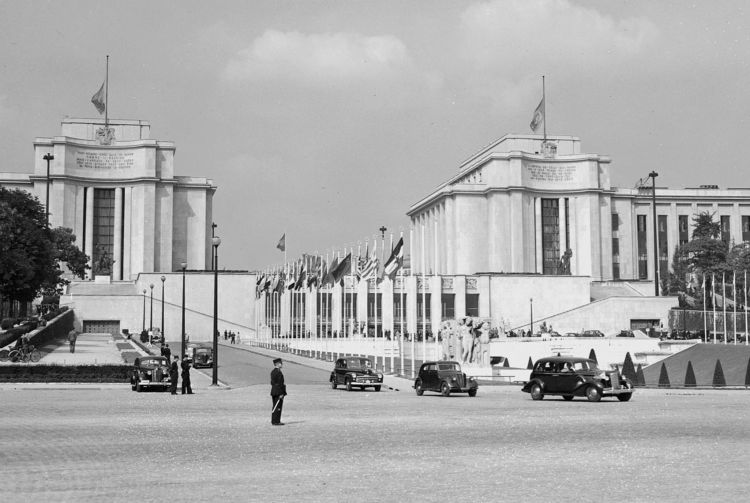 Its 30 articles were supposed to provide a blueprint for how states were supposed to behave in the brave new world which was emerging from the ashes of the Second World War.
The document established fundamental principles of dignity, liberty, equality and brotherhood, enshrining the right to life, the prohibition of slavery and freedom of speech.
It demanded all countries ensured individual privacy and personal freedom to act within the law, had access to justice and outlawed arbitrary arrest or detention
Forty-eight of the then 58 members voted in favour of its adoption, with none against. The other ten either abstained or failed to vote.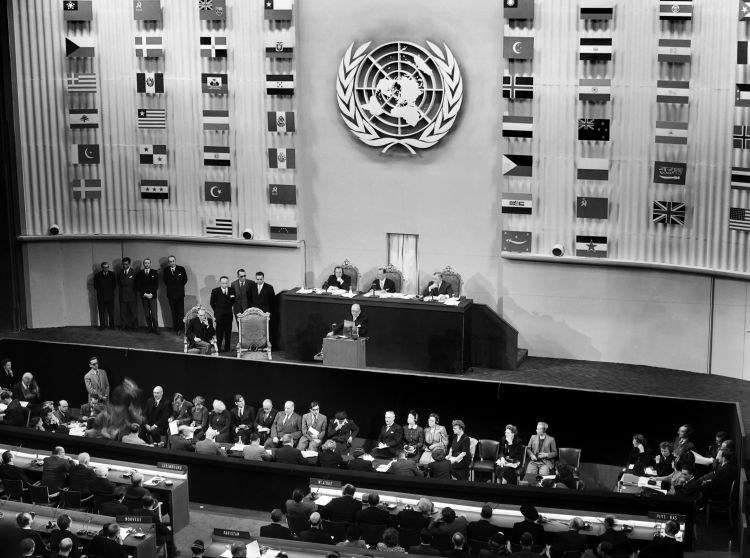 Many grand words were spoken as delegates took their turn to extol the virtues of creating a code by which all nations, if they were to be genuinely united, should abide.
Among them, US secretary of state George Marshall called it "a standard of conduct for all," adding: "Let us as members of the United Nations, conscious of our own shortcomings and imperfections, join our effort in good faith to live up to this high standard."
But, the cracks were there right at the beginning.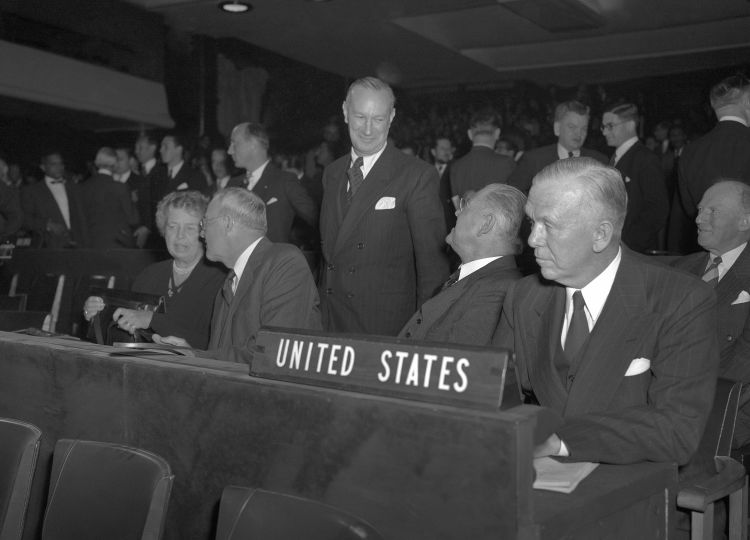 Six of the abstainers were from the eastern bloc, and although at the time they justified the move by saying it did not go far enough in condemning fascism and Nazism, all would later be criticised for behaving in ways that were contrary to many of the declaration's articles.
South Africa's objections have to be viewed in relation to its system of apartheid. Saudi Arabia, meanwhile, is understood to have been uncomfortable with Article 18, which states that everyone has a right to change their religion, and Article 16, which demands equality in marriage.
Notwithstanding the fact that dozens of countries were not signatories to the original declaration, either because they were not yet UN members, or had not yet won independence from the major colonial powers of the time.
Yet, initial backers included countries like China, Burma (Myanmar), Iran, Turkey, Syria, Egypt, Venezuela and most of Central America.
The declaration went on to be the basis for a series of further international treaties that were signed into international law, governing civil and political rights, economic, social and cultural rights, discrimination, torture and protection for people with disabilities, migrant workers and children.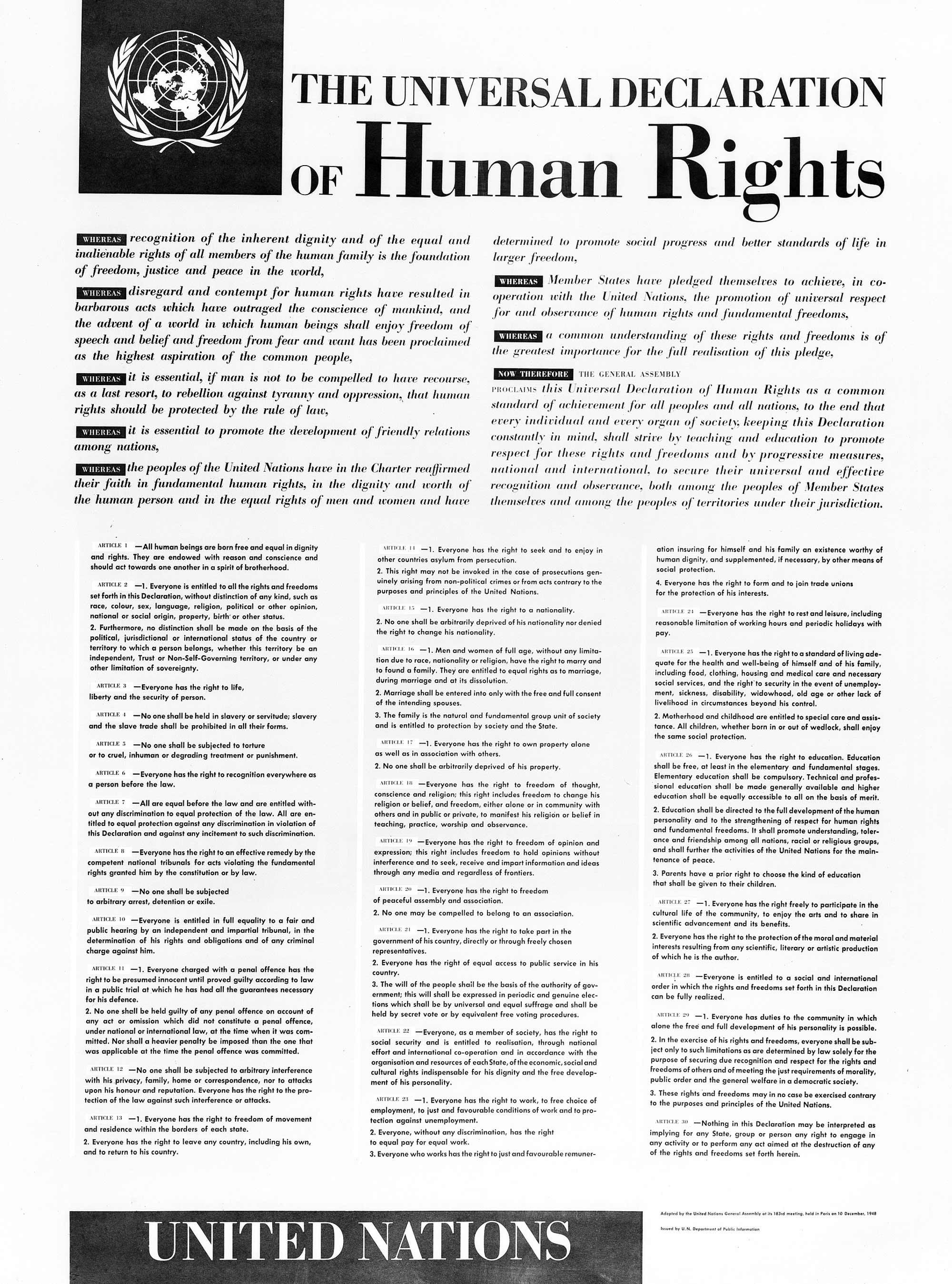 Why does the Declaration matter?
The anniversary of the adoption of the declaration is regarded as so important by the UN that they made 10 December World Human Rights Day.
The UN says: "Thanks to the declaration, and states' commitments to its principles, the dignity of millions has been uplifted and the foundation for a more just world has been laid.
"While its promise is yet to be fully realised, the very fact that it has stood the test of time is testament to the enduring universality of its perennial values of equality, justice and human dignity.
"The principles enshrined in the declaration are as relevant today as they were in 1948. We need to stand up for our own rights and those of others. "
The UN is not alone in championing the declaration's spirit and aims.
Many advocates of human rights understandably say that without it the world would be a poorer place.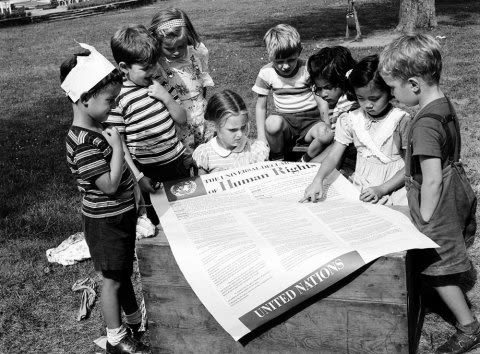 Amnesty International is one of the organisations that uses the ideas promoted by the declaration to monitor the behaviour of states.
Kate Allen, Amnesty International UK's director, says: "The Universal Declaration of Human Rights was a landmark document which still serves as the foundation of human rights around the world today.
"The UDHR lays out fundamental human rights principles like the right to be free from slavery or torture, and the right to a fair trial - but it also goes further than that, setting out a minimum right to be housed and to enjoy education and leisure time.
"With human rights under sustained attack in places like Syria, Turkey, the Philippines and Myanmar, the UDHR is as relevant now as it was in 1948."
Another is Human Rights Watch, which says: "The Universal Declaration of Human Rights was a milestone in human history. It was written by women and men after they saw the terrible things human beings did to one another in the horrors of the Second World War, and vowed 'never again'.
"Human rights are not a 'nice to have'. In today's uncertain political times, they are critically important.They protect all of us: rich or poor, gay or straight, powerful or marginalized. A foundation of human rights distinguishes a truly free society from one ruled by tyranny and oppression."
And the UK government says the treaties that arose from the declaration allow it to hold other nations to account.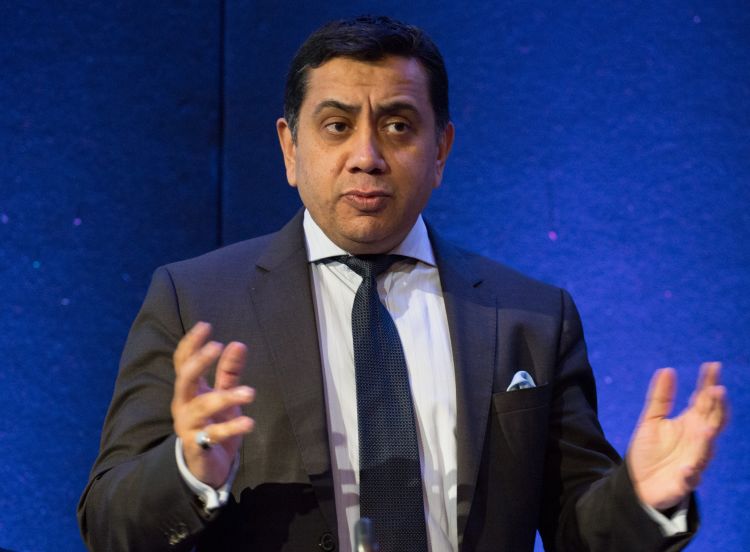 Lord Ahmad, Foreign Office minister with responsibility for the UN, told Sky News: "The declaration proclaimed the rights that every person should enjoy, regardless of their place of birth, position in society, or their race.
"Sadly, there are still far too many people who do not enjoy these rights and freedoms.
"So while we are right to celebrate the 70th anniversary of the declaration, we must also recognise the work that remains to be done.
"Societies that protect and respect human rights and democracy are open, stable and prosperous countries, and these make good partners for the UK.
"Our policy is to defend and promote internationally the full range of rights set out in the Universal Declaration of Human Rights and in international human rights treaties.
"The UK government monitors countries with a poor track record on human rights, and tackles these through a combination of dialogue and pressure.
"I, my ministerial colleagues and officials regularly raise our concerns with those governments, and we make good use of UN resolutions and sanctions to focus international attention and action on those countries where abuses are most apparent. "

What's happening now?
While the declaration remains the cornerstone of the principles on which the UN was built, the organisation now has many more members than it did when it was drawn up, often with competing agendas.
Several non-governmental organisations which promote the importance of human rights study how well countries adhere to the treaties they have signed up to.
Many find the same countries repeatedly guilty of violating human rights or putting them at risk.
One analyst, Verisk Maplecroft, produces a quarterly index using a range of quantitative and qualitative data to assess to what extent states accept and commit to implement their human rights obligations.
It assesses countries using many of the principles set out in the original declaration, including the extent to which states uphold access to remedy, civil and political rights, human security and labour rights and protection.
The results of the latest index make depressing reading, with 22 countries falling into the "extreme risk" category.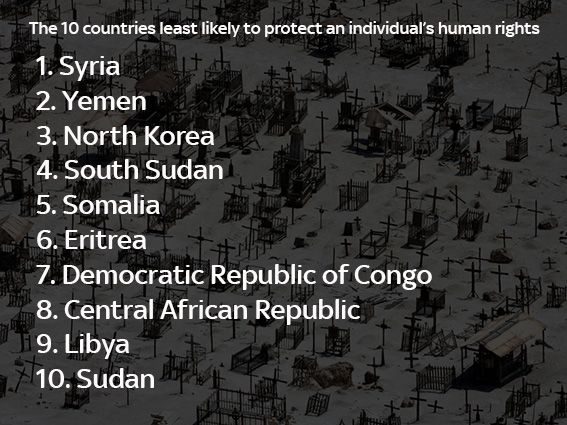 As well as those in the ten worst, countries like Myanmar, Iran and Venezuela fall into the category of countries where human rights are at extreme risk of being breached.
Others, where human rights might be expected to be protected or improving are still well down the table.
Tap on the map below to see which category each country falls into. You can also enter the name of the country into the search bar.
Then read Sky News correspondents experiences of reporting on countries where, for some people, rights are out of reach.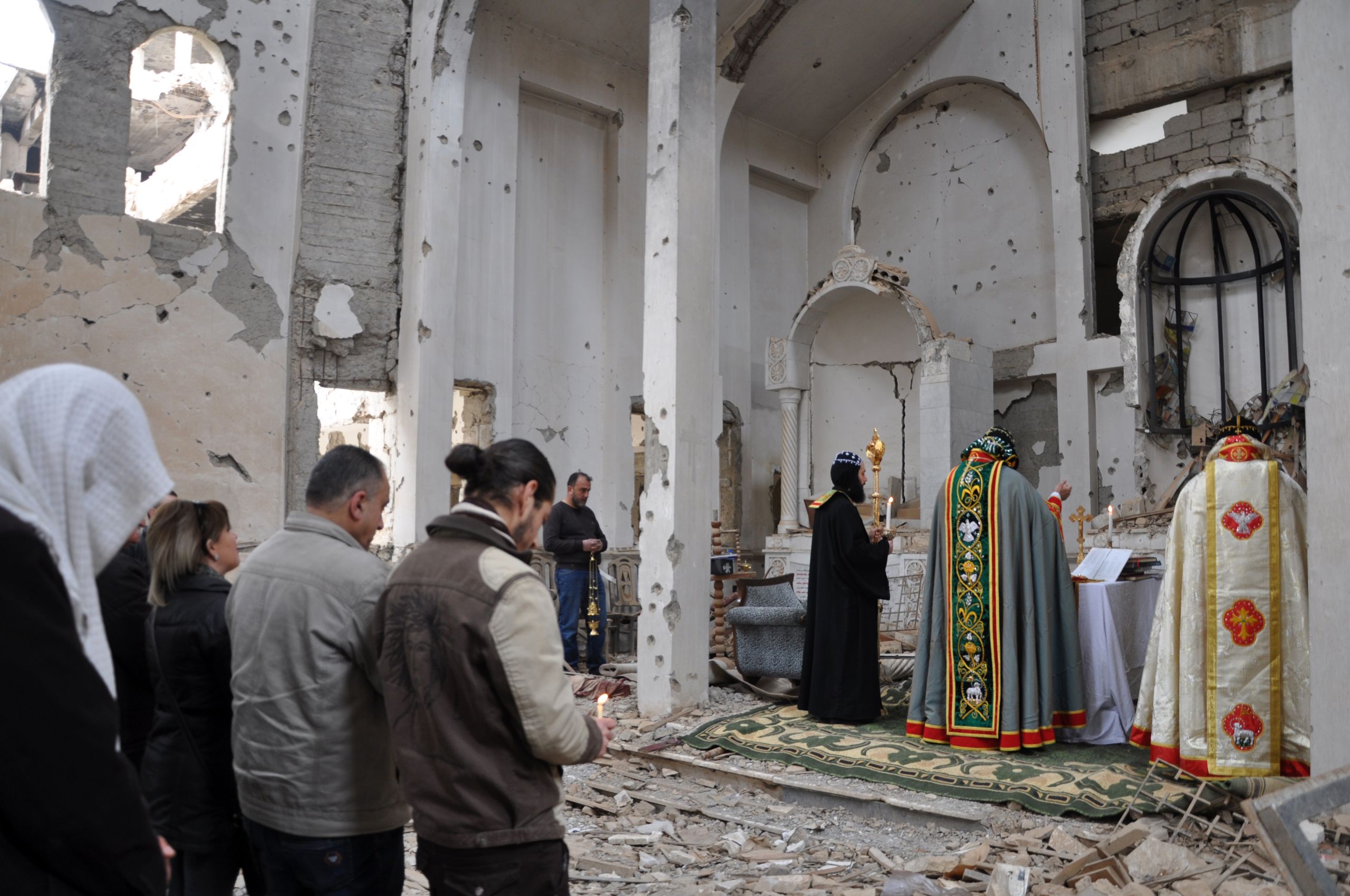 In the wake of the Arab Spring in 2011, Syria was one of the countries which rose up in an attempt to remove its authoritarian regime.
The subsequent crackdown soon descended into civil war and as the various factions involved in fighting have tried to seize the initiative, there has been little room for human rights.
In its overview of the situation in Syria, Amnesty International says: "Parties to the armed conflict committed war crimes and other grave violations of international humanitarian law and human rights abuses with impunity.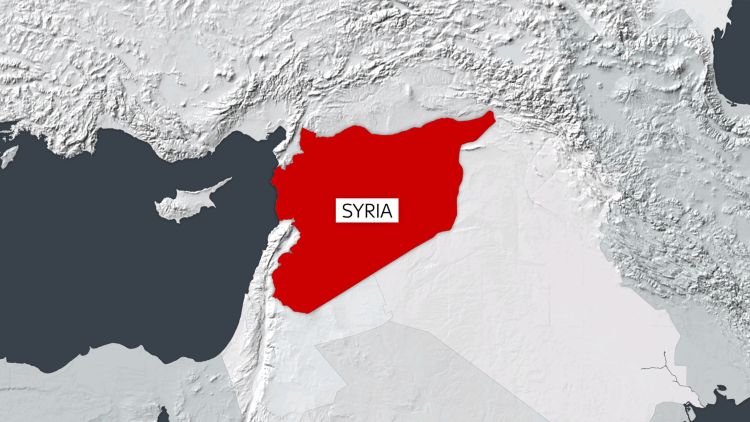 "Government and allied forces, including Russia, carried out indiscriminate attacks and direct attacks on civilians and civilian objects using aerial and artillery bombing, including with chemical and other internationally banned weapons, killing and injuring hundreds.
"Government forces maintained lengthy sieges on densely populated areas, restricting access to humanitarian and medical aid to thousands of civilians.
"Government forces and foreign governments negotiated local agreements which led to the forced displacement of thousands of civilians following prolonged sieges and unlawful attacks."
Sky News chief correspondent Stuart Ramsay, who has been to Syria many times, writes:
I held on tight to the seat of the motorcycle and prayed my driver knew exactly where he was going as he gunned the engine and we flew across a field - not any sort of field - a minefield. I was terrified.
It was 2011 and were crossing into Syria from Lebanon.
'Don't worry Stuart, soon we will be in Syria and you will be safe!' my 21-year-old driver cheerily assured me over the wind as he expertly manipulated us around the myriad of anti personnel mines hidden beneath the surface.
We crossed a road and entered what seemed to be the back garden of a home; we ducked beneath sheets drying on a washing line, through a ditch and up a steep bank, me clinging on.
'Welcome to Syria!' he exclaimed. We were in.
I was heading for the city of Homs, where the growing protests against the rule of Bashar al Assad were getting louder.

The Syrian leader, his military and his enormous intelligence agency, were promising to smash the uprisings.
People were already disappearing from homes, taken away, sometimes never to return, all routinely tortured.
I wanted to get inside the city to find out who the people protesting were and what they hoped to achieve.
Over the coming months, I and a handful of journalists risked entering to report on the uprising and the dreadful human rights abuses being meted out on ordinary people and NGOs trying to help them.
Conditions in Homs started badly but descended into hell as Assad dropped any pretence of humanity and ordered the city and its inhabitants who resisted him to be wiped out in a campaign of missile attacks and artillery fire.
Thousands died, among them journalist Marie Colvin. She and I talked often about the danger of covering what was now a war. We agreed we should keep our trips brief, keep moving and hope for the best.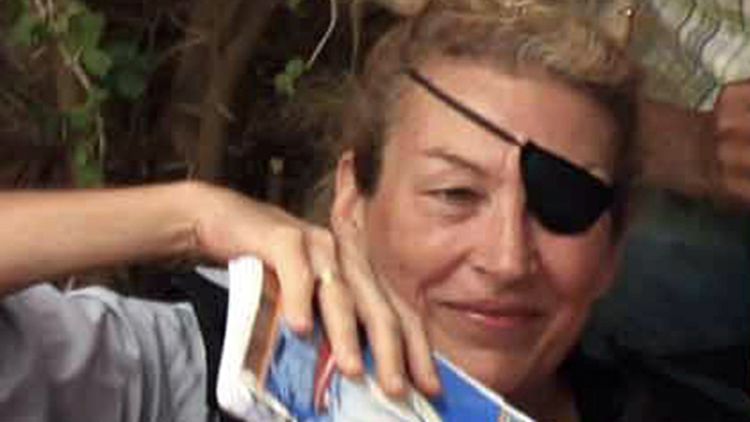 We met one last time in a Lebanese bar, when I had just come out. She asked if she should go in. I said no she shouldn't but added I knew she would. We laughed, clinked glasses and finished our drinks. She died a few days later in a maelstrom of artillery fire.
By now millions were fleeing from their homes. Some crossed borders and some became internally displaced.
Covering this crisis took me across the country and I often marvelled at how the NGOs managed in incredible danger to look after and even protect so many helpless people.
Human rights had ceased to exist. 
At its heart though were ordinary people. They are still suffering dreadfully with no protection, caught up in an ongoing conflict, existing in refugee camps or spread out across Europe.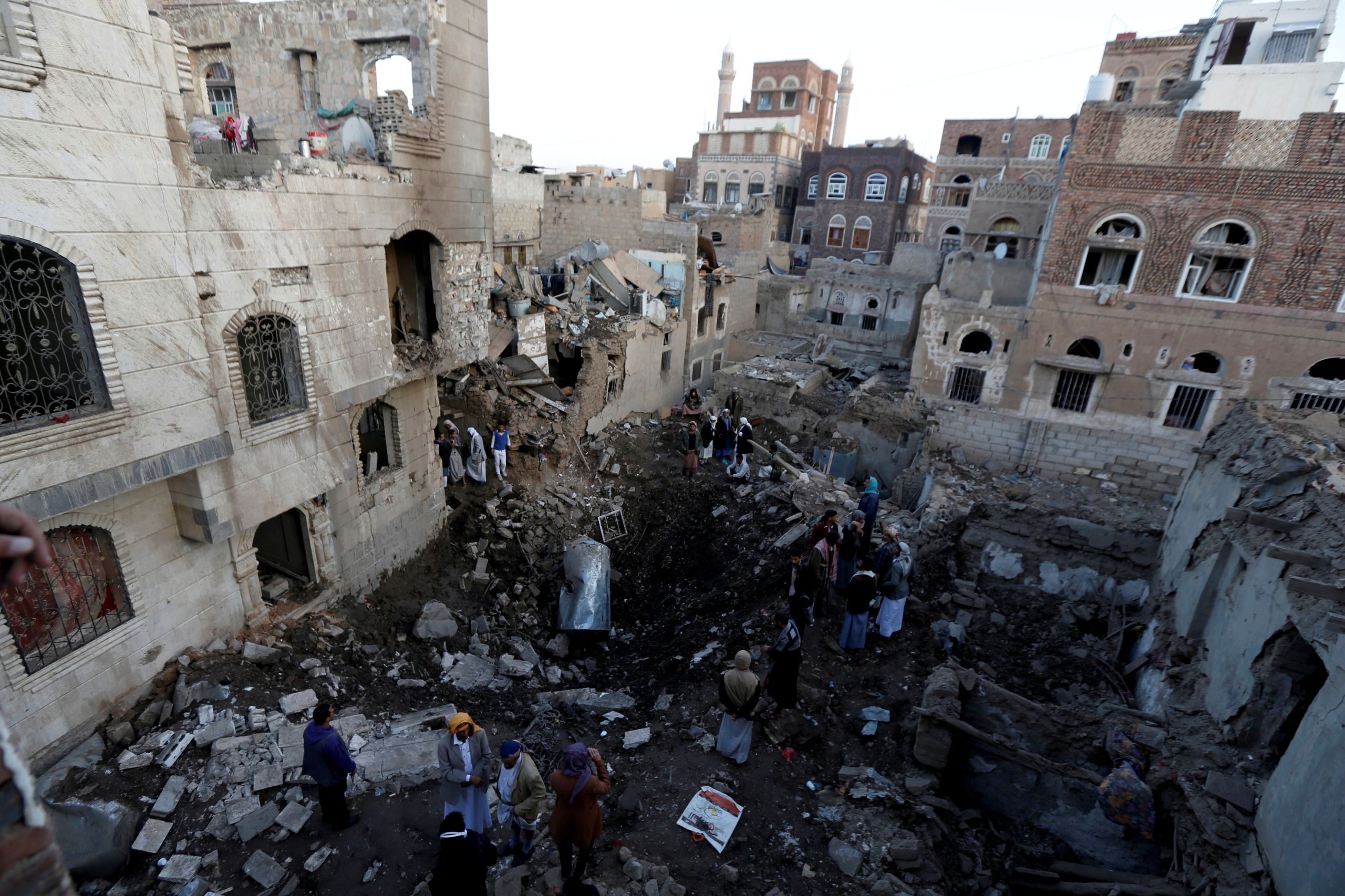 Yemen was another country that became afflicted by war after the Arab Spring. But, while the Assad regime was able to retain control of the Syrian capital Damascus, the officially recognised Yemeni government was forced to relocate to Saudi Arabia as Houthi rebels took control of Sanaa after fierce fighting in 2015.
Since then, the country has been mired in a series of humanitarian crises, that have left much of its population in danger of malnutrition, poverty and disease.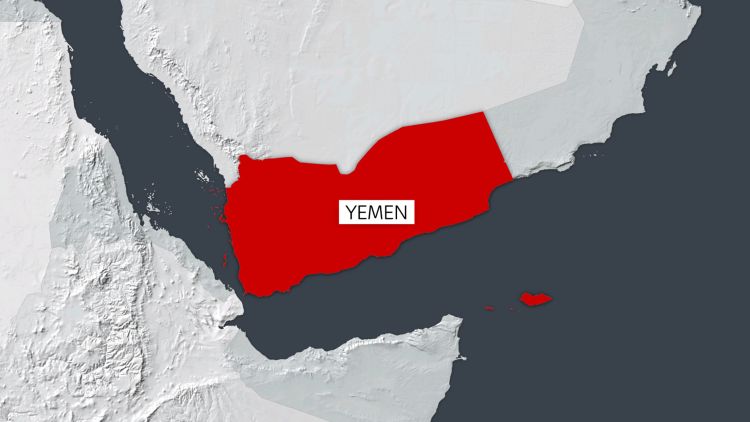 Several countries and NGOs have criticised the involvement of a Saudi-led coalition in the war, which has resulted in civilian deaths and injuries. The coalition has also been accused of worsening the humanitarian situation by frequently blockading the port of Hodeidah.
Human Rights Watch, in its country profile, says: "The conflict between the Saudi-led coalition and Houthi forces has exacerbated the dire humanitarian situation and taken a terrible toll on Yemeni civilians.
"The coalition's scores of indiscriminate airstrikes have killed and wounded thousands of civilians in violation of the laws of war. Houthi forces have fired artillery indiscriminately into Yemeni cities and launched rockets into populated areas of Saudi Arabia.
"The Houthis, pro-government forces, and United Arab Emirates-backed forces have arbitrarily detained, abused or 'disappeared' scores."
Sky News Middle East correspondent Alex Rossi, who has recently reported from Yemen, writes:
Yemen's chaos is an entirely man-made catastrophe and amid and on top of the wreckage, human rights abuses are legion.
The country has been at war, one way or another, for years.
The conflict has bred what can only be described as a contempt for human life.
All sides are guilty but some more so than others.
It is hard to use military logic to justify airstrikes on schools, funerals and hospitals - unless of course it is a tactic by the Saudi-led coalition, which is backed by the US and Britain, to terrify the beleaguered population into submission.

In the war starvation through blockade is also being used with a medieval efficiency.
Children are dying every day from lack of food and the country is on the brink of famine.
The Houthis too have blood on their hands.
I recently spoke with the mother of a child, who was ripped apart by a shell, while seemingly safe in a refugee camp.
The dead girl's brother showed me strands of her ribboned flesh, which were still hanging from a nearby bush.
The peace talks may bring a close to the fighting.
It is perhaps unlikely, but we can only hope.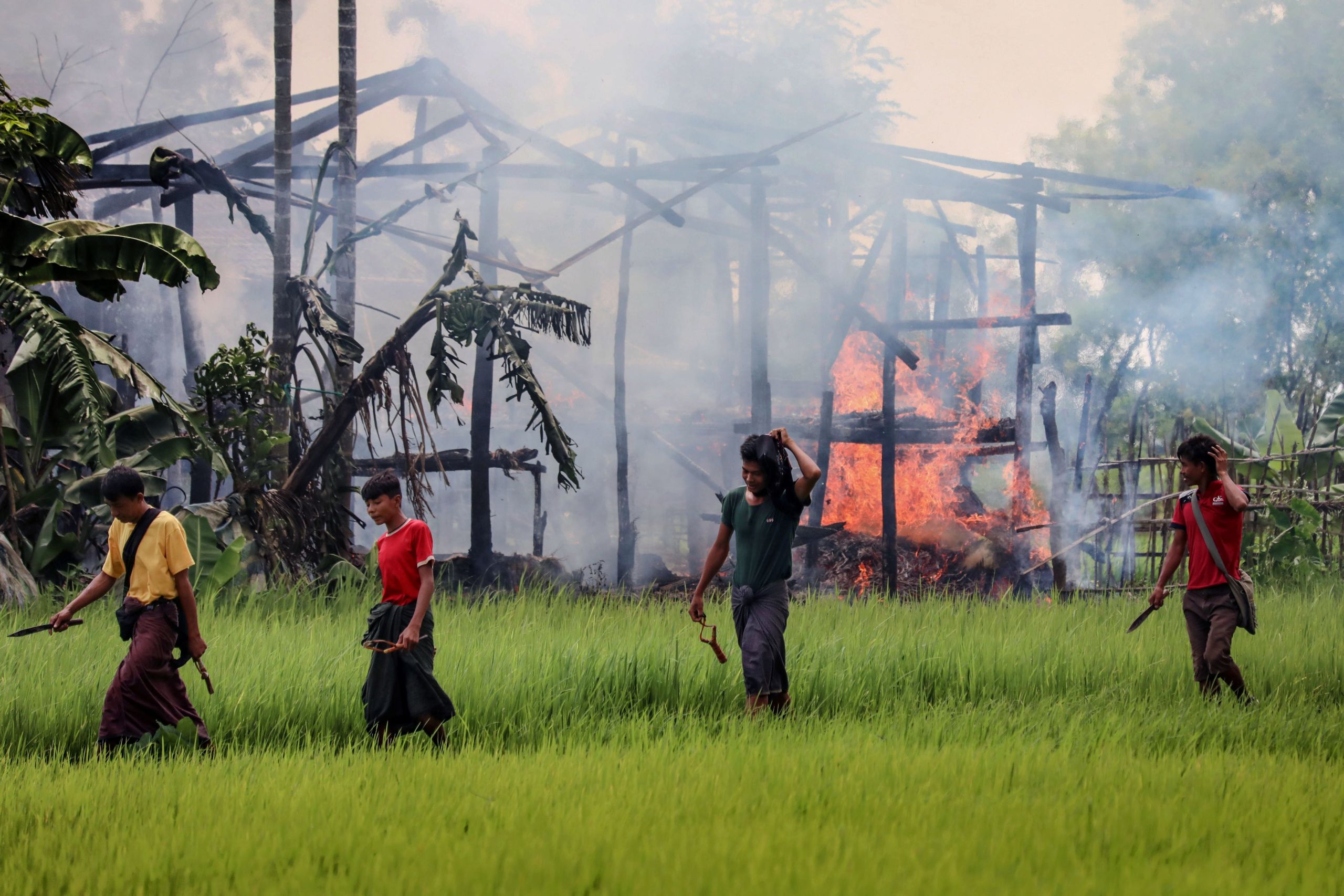 In 2015, the first democratic election to be held in Myanmar for 25 years led to hope the country was turning its back on years of repressive military rule.
But, within months reports began to emerge of ongoing persecution of a Muslim minority people called the Rohingya.
The issue erupted into the international arena at the end of summer 2017 when hundreds of thousands of Rohingya fled from Rakhine state into neighbouring Bangladesh, escaping what many described as the systematic destruction of their homes.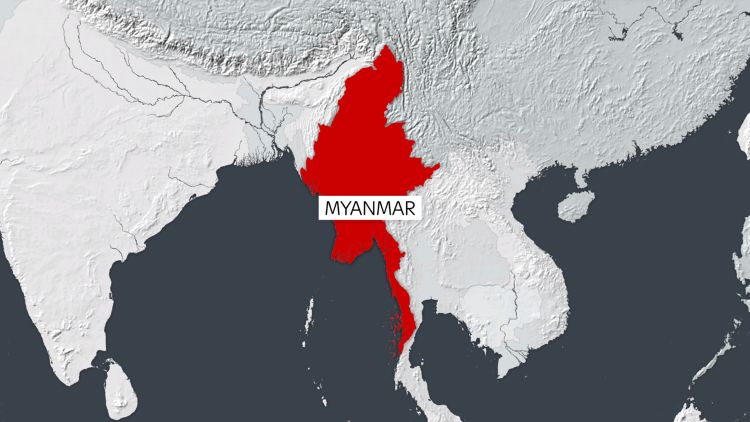 Since then, as the country's rulers have failed to accept responsibility, they have continued to clamp down on dissent, and late last year jailed two Reuters journalists for covering the Rohingya crisis.
The latest report by an international fact-finding mission on Myanmar, set up by the UN Human Rights Council, found "consistent patterns of serious human rights violations and abuses in Kachin, Rakhine and Shan states, in addition to serious violations of international humanitarian law. These are principally committed by the Myanmar security forces, particularly the military. Their operations are based on policies, tactics and conduct that consistently fail to respect international law, including by deliberately targeting civilians. Many violations amount to the gravest crimes under international law".
Sky South East Asia correspondent Siobhan Robbins, who has recently returned from Myanmar, writes:
There is something chilling about Northern Rakhine State.
An unnatural emptiness.
The miles of emerald fields I passed on a government tour in the summer were almost completely deserted.
Fishing boats, which once held the day's catch, rotted by the roadside.
Their Rohingya owners have fled.
More than 700,000 have poured over the border to Bangladesh to escape a military crackdown since August 2017.

Ethnic cleansing or genocide, while the international community debates the crime, most accept they were victims of a targeted attack.
I didn't hear that in Myanmar - instead everyone told me the Rohingya themselves were to blame.
By the charred wreckage of villages, officials talked of Muslim terrorists who burned their own homes.
Whether out of fear or genuine belief, villagers repeated the authority line.
It's understandable - deviating from this preferred narrative has proven dangerous.
Two local Reuters journalists who uncovered a massacre in Inn Din have been locked up for the last year - the price of truth a prison sentence.

The once-celebrated human rights defender, Aung San Suu Kyi, has repeatedly failed to speak out against the powerful military.
The Rohingya who remain in Rakhine that I managed to speak to, told me they're desperate to escape.
They say they live in fear; that everything is controlled from where they can fish to what they can eat. Several boatloads have tried to leave in the last few weeks.
During my trip I witnessed an overt resentment, in some cases hatred, of the Rohingya.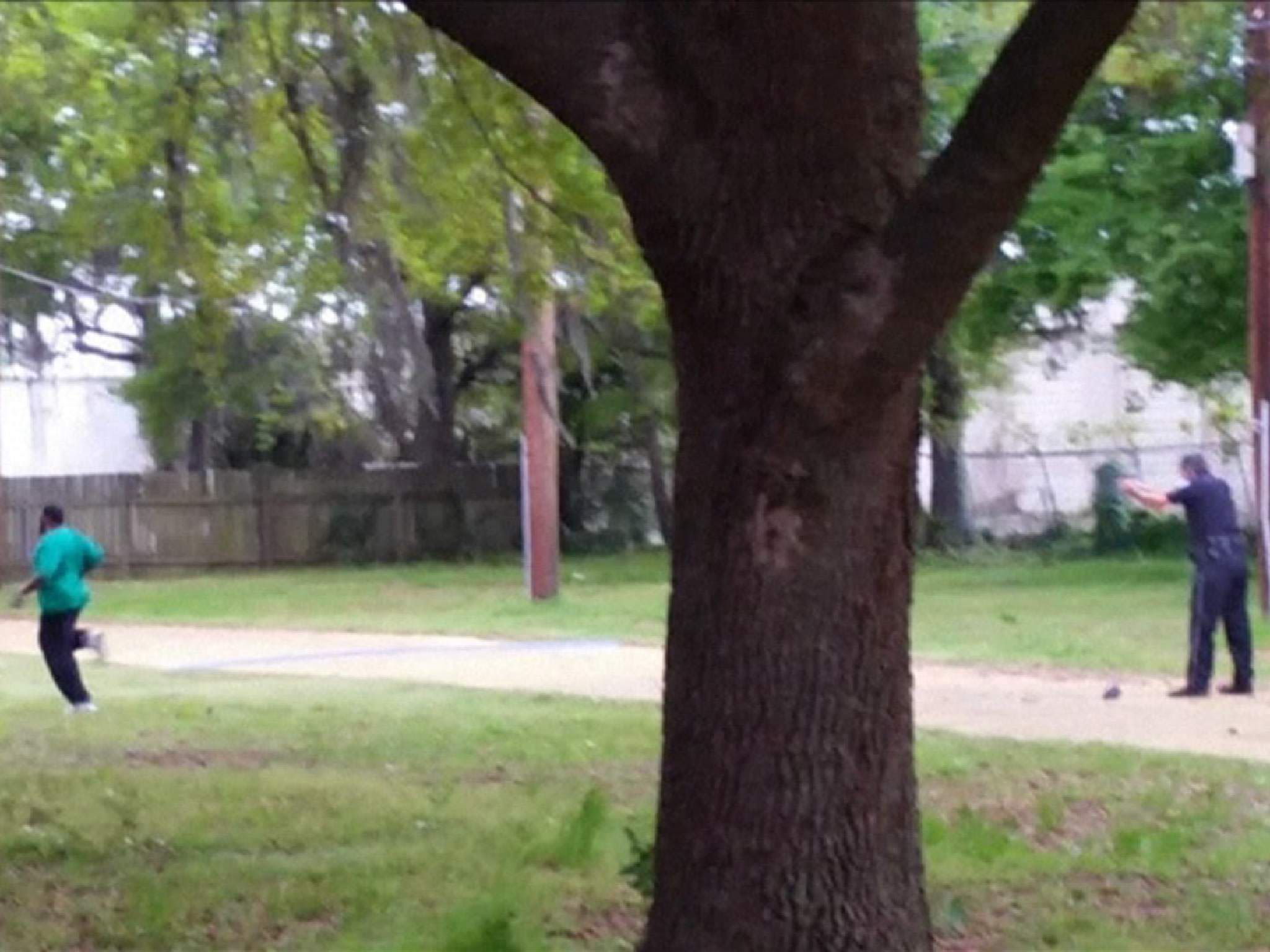 A country which not only houses the UN, was integral to the drafting of the Universal Declaration of Human Right and has a constitution on which several articles in the document are drawn from, the US often holds itself up as a paragon of virtue by which other human rights violators are judged.
But with a president who uses rhetoric that describes asylum seekers as criminals, tacitly stands by as children are separated from parents who have entered the US illegally, and attempted to ban people from specific countries coming to the country, some have said it can no longer regard itself as a global defender of human rights.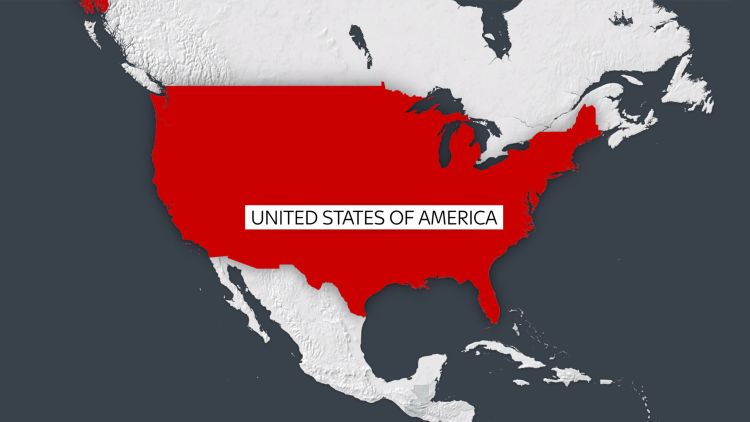 Earlier this year, the US withdrew from the UN Human Rights Council, claiming the repeated violations by those members on the council made it a "mockery".
Yet, the country is ranked well below most European nations in the Verisk Maplecroft list, coming under the medium risk category, rather than the "low".
It is also a country where hundreds of people are shot dead annually by police, according to a 2015 study by the Economist.
.@SecPompeo: the Human Rights Council has become an exercise in shameless hypocrisy -- with many of the world's worst human rights abuses going ignored & most serious offenders sit on the council sit in pious and self-righteous judgement of others with infinitely better records. pic.twitter.com/R1uYs0LZWE

— Department of State (@StateDept) June 19, 2018
Amnesty International says in its country report: "Executive orders to suspend travel to the USA from several Muslim-majority countries sparked legal challenges, which continued through the year.
"There were major attacks on the rights of women and girls. Eighteen detainees were transferred from the US naval base at Guantánamo Bay, Cuba; 41 detainees remained at the base and pre-trial military commission proceedings continued.
"Gun violence remained high. Death sentences were handed down and executions were carried out."
Sky News US correspondent Greg Milam writes:
In the Declaration of Independence, the Founding Fathers listed 'life, liberty and the pursuit of happiness' as examples of the 'unalienable' rights given to all by their creator.
Many in Donald Trump's America feel like those rights are not for everyone.
I have heard stories of Latino US citizens removing the rosaries from their rear-view mirror, because they worry about attracting the attention of Immigration and Customs and Enforcement agents - it paints a bleak picture of today's 'Land of the Free'.
Mr Trump has gleefully targeted refugees and immigrants, demonised Muslims, refused to condemn white nationalists, attempted to restrict access to healthcare, tried to roll back protections for the transgender community and expressed disdain for the media and judiciary.

Every single one of those outrages, plus numerous others, has a direct real world impact on the life and place in society of someone.
They slip into the shadows, they fear abuse or attack, worry about disenfranchisement and whether they really do have any human rights in their home country at all.
And we can only guess at the chilling effect Mr Trump's emboldening of dictators around the world has had on human rights in other countries.
The consolation, in America at least, is that the backlash against Mr Trump's attacks has been big and loud. You hear the language of resistance every day and in the courts and in the mid-term elections, the brake has been applied to some of the policies that, critics say, take America backwards on human rights.
But the last two years have been a reminder of how no-one can afford to take those rights for granted anymore.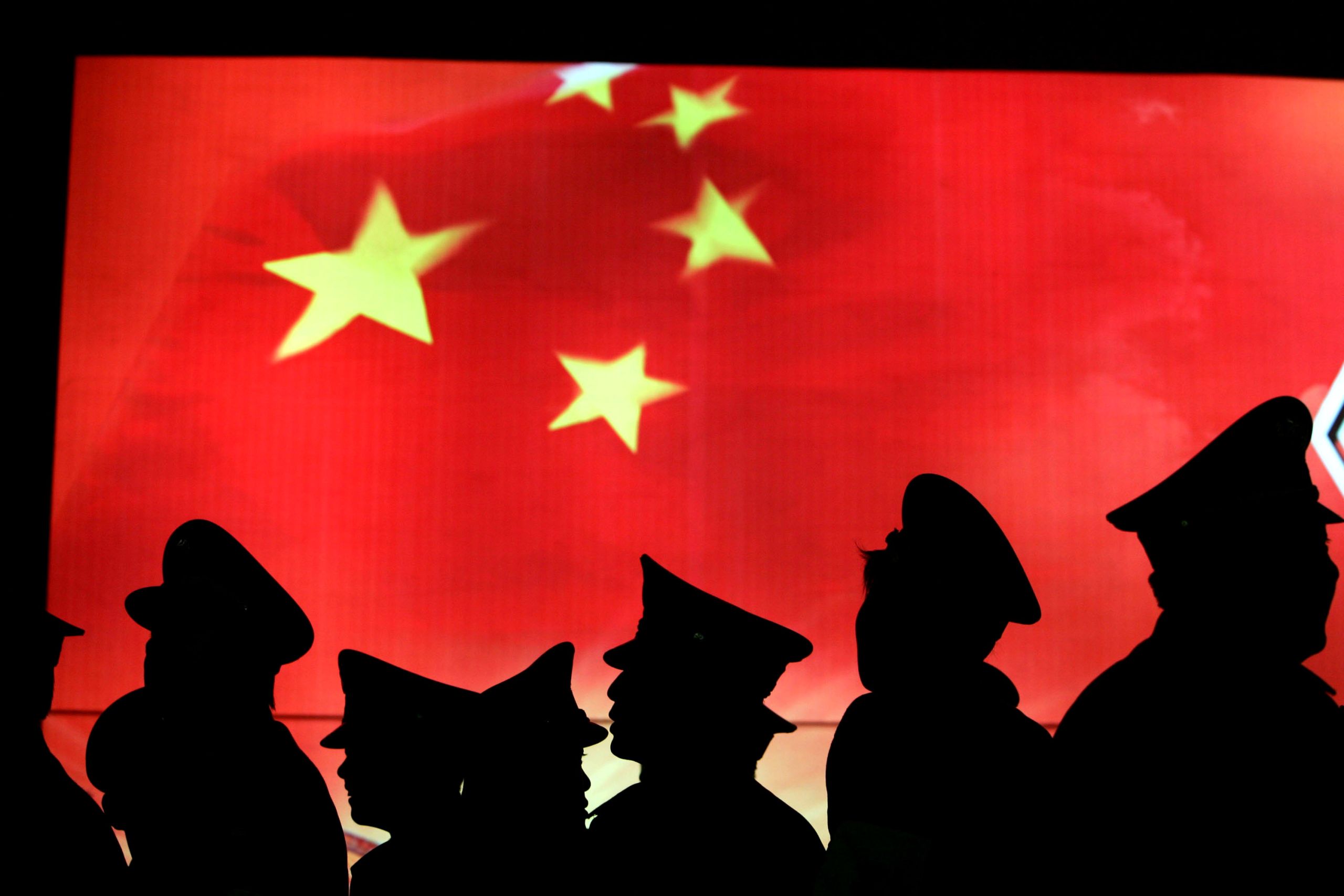 China, a country that purports to be communist, has an authoritarian government that permits some economic freedoms.
The risk to human rights there is not in the "extreme" category, partly because it has seen such rapid economic expansion since it began to look outward in the late 1980s, but it is high up in the list of worst offenders, and many commentators say there are signs it is getting worse.
Human Rights Watch says: "Since President Xi Jinping assumed power in 2013, the government has arbitrarily detained and prosecuted hundreds of activists and human rights lawyers and defenders.
"It has tightened control over non-governmental organisations, activists, media, and the internet through a slew of new laws that cast activism and peaceful criticism as state security threats."
Thomas Cheshire, Sky News China correspondent, writes:
The People's Republic of China is only a year younger than the declaration on human rights.
Over that time, it has made unbelievable economic progress, lifting hundreds of millions of people out of poverty and becoming the second biggest economy in the world.
It has not made corresponding progress on human rights, remaining near the bottom of the table.
The country has one of the strictest online censorship regimes anywhere in the world; even typing certain phrases on WeChat, the Whatsapp equivalent, is impossible. Activists, lawyers and students have been detained for seeking even minor political reforms. Last year Nobel peace laureate Liu Xiaobo died while still in detention.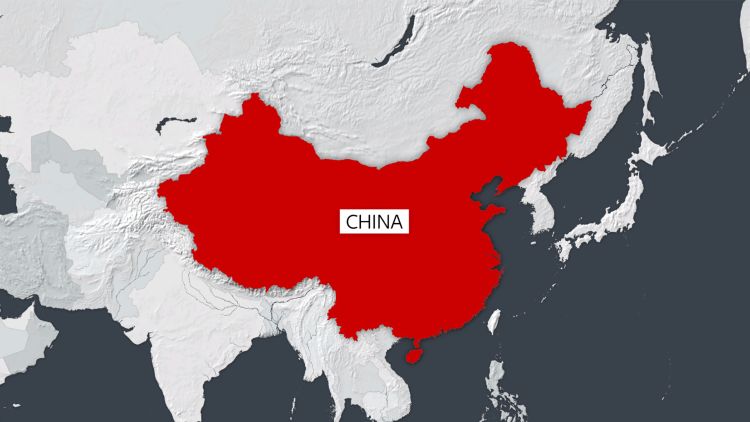 In Xinjiang, in north Western China, the UN says it has received credible report that up to one million ethnic Uighurs are held 'in something that resembles a massive internment camp that is shrouded in secrecy'.
The Chinese government only recently admitted that any such centres exist: it calls them 'vocational training facilities' and insists they're necessary to pacify a region affected by terrorism. The extensive surveillance systems developed are increasingly being deployed around the country.
The great hope for China was that economic reform and opening would naturally lead to greater freedom for its citizens. Instead, under president Xi's leadership, things are only becoming more repressive.
Who was behind the document?
Remarkably, for the age, the leader of team that came up with the declaration was a woman.
Eleanor Roosevelt was not only the longest serving first lady, as wife of four-term president Franklin D, she was also an activist and diplomat in her own right.
In the 1930s and 1940s, the mother-of-six had broken the mould and met with resistance by supporting civil rights causes - in an age when first ladies were expected to do nothing other than provide a home for their husbands and welcome visiting dignitaries.
After her husband died just before the end of the Second World War, the woman who had been party to many of the commander in chief's discussions about the defeat of Hitler was appointed a delegate at the newly formed United Nations General Assembly.
In 1946, she was became the first chair of the United Nations Commission on Human Rights, remaining in the role until 1951, and on the commission until 1953.
Heading up a team that included members from China, Chile, Lebanon, France, the Soviet Union and the UK, the position gave her significant influence in the drafting of the document that paved the way for the structure of international law.
The UN says: "Eleanor Roosevelt used her enormous prestige and credibility with both superpowers to steer the drafting process toward its successful completion."
The first draft was produced by Canadian John Peters Humphrey and the second by Frenchman Rene Cassin.
It then underwent editing by the committee, before further discussion by other UN committees and finally being proposed and amended by the General Assembly in December 1948.
While the declaration was adopted after a vote, it did not become international law and none of its principles were formally made law until the 1970s. But it did become widely read, later being translated into more languages than any other document in history.
What does the Universal Declaration of Human Rights say?
The document can be split roughly into sections.
Articles 1 and 2 set out the broad aims, describing what "all human beings" are entitled to, without distinction as to "race, colour, sex, language, religion, political or other opinion, national or social origin, property, birth or other status".

Articles 3-12 relate to an individual's expectation as to their liberty, security and relationship with law and justice.

Articles 13-15 cover issues such as nationality and movement between nations.

Articles 16-21 address personal, political and family rights.

Articles 22-27 establish an individual's social rights, covering matters like economic security, health, education and culture.

Finally, articles 28-30 set out how the rights will be provided and the relationship between the individual, their rights and the community.
Any criticisms?
Almost immediately, the fact that its initial drafts were by Western, non-Marxist members led to criticism that the declaration was written from a rational, not God-given point of view, which asserted that rights apply to individuals, not groups.
But it is now seen as very much a product of its time.
Its principles were designed in an immediately post-war era in which competing power blocs were all powerful.
The US/West v Soviet Union world order of the day, in which fascism had just been defeated by an international coalition, no longer applies.
It was also drawn up in an era when colonialism was prevalent - leading to suggestions it was imbued with an underpinning attitude that developed nations know best.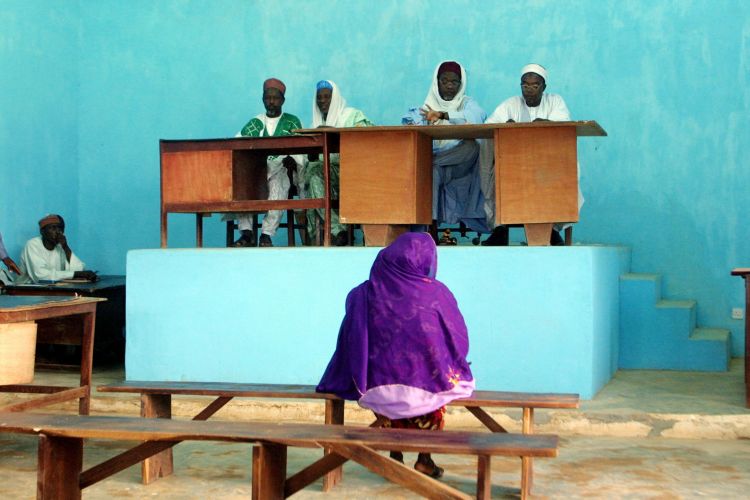 Eric Posner in The Guardian in 2014 wrote that the human rights legislation that stemmed from it creates "an illusion... that Western countries are [as] subject to international human rights law as other countries are. However, in practice, international human rights law does not require Western countries to change their behaviour, while (in principle) it requires massive changes in the behaviour of most non-Western countries."
Others have said that the weakness of human rights law lies in its liberal Western foundations, which do not apply to many parts of the world which have different values.
A particular point of criticism by some Middle Eastern countries, is that, as a UN document, it does not take account of Sharia law.
This issue led members of what is now the Organisation of Islamic Co-operation in 2000 to draw up the Cairo Declaration of Human Rights in Islam, a document that asserts human rights in accordance with Sharia belief.
Some Asian countries have also expressed concerns that the declaration and its descendant pieces of human rights law put civil and political rights ahead of economic development.
"Where, after all, do universal human rights begin? In small places, close to home - so close and so small that they cannot be seen on any maps of the world. [...] Unless these rights have meaning there, they have little meaning anywhere. Without concerted citizen action to uphold them close to home, we shall look in vain for progress in the larger world."
Eleanor Roosevelt